---
Commentary and discussion of the Saint Anselm Community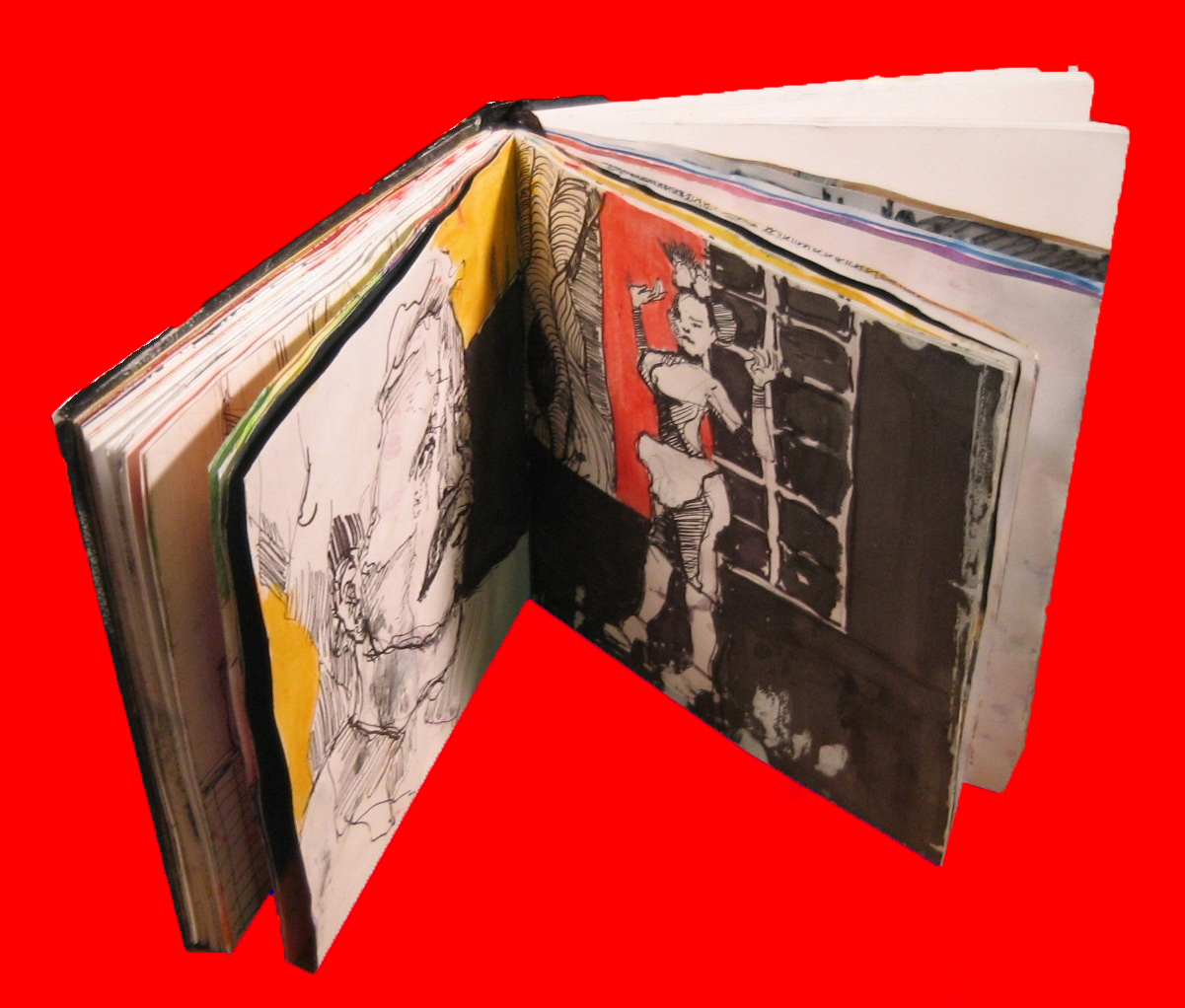 Monday, Comiskey Center, 6:30-8pm. Will revisit Screenprinting, Inkjet/Laser Print Transfer Methods, Monoprinting, and other Fun Stuff.
Gelatin prints will be available again with more gelatin plates. Check it out!
What follows is a special comment on the status of homosexual students at Saint Anselm College following the recent Statement on Inclusiveness and Sexual Orientation. It is likely that the four months and 1200 miles that separate me from graduating from Saint Anselm give me the candor to write this, for I discuss topics I found made me squirm in my seat during my time there; I know I was not alone when I found the topic of homosexuality taboo at Saint Anselm. As far as the title of this blog entry goes, I find that titles are best left to friends, admirers, and antagonists, as mine tend to be absurdly dull and/or literal. If this is actually read by anyone, feel free to leave in a comment a suggestion for a better title, in addition to any positive or negative feedback.
* * *
The 2nd Annual Health Promotion Fair Presented by the Sophomore Nursing Class
Hello, Sketchbookers!
First workshop was a great success! See Pictures Here.
Our 1st Sketchbook Workshop will be this coming Tuesday at 3:30-5:30pm, starting in the Comiskey Gallery.
Megan Bogonovich, ceramics professor, will be doing a Screenprinting Demonstration for us. She'll bring a variety of designs for you to chose from for one of your sketchbook pages. From there we'll talk about how to incorporate prints, images and other found patterns into your sketchbook and how to incorporate your theme.
There will be a variety of materials available with which to work. A 2nd Workshop is planned for the following week and will be discussed on Tuesday.
Feel free to bring drinks and snacks to share -we'll have a table out in the gallery for this purpose.
Questions? contact: Kimberly Kersey Asbury, kasbury@anselm.edu
MEGAN BOGONOVICH'S ceramic vessels with screen printing
Walt Whitman Poetry Reading
October 18 at 5PM in Bradley
Bring your favorite Walt Whitman poem and we'll read and discuss.
Food and Refreshments provided.
And your very flesh shall be a great poem.
Some Pictures from the Lucubrations Art Hike on Mount Monadnock, September 25, 2010.
FACTORY, WHO?
Prof. Dalton's Recorded message shown before the Film Discussion Series showing of Inglorious Basterds.
Priceless!
A PDF of this sensitive below document can also be downloaded at the bottom of this posting via an attachment. (It is recommended to read this document as a PDF for the full effect)
ANSELMIAN STUDENT SAFETY COMMITEE CONFIDENTIAL USE: EYES ONLY
Special Topic: Defending Dominic Hall From Zombies
Poetry.
Sunday, Sept. 19th
Del Rossi's Trattoria, Rte 137N, Dublin, NH 03444
4:30pm Social/Sign-up;
The Celebration of Life Memorial Service for Marvin Sweet
took place at the Essex Art Center in Massachusetts on July 3, 2010.
The Department of Fine Arts is planning a gathering in his honor in Comiskey this fall. Please watch for the announcement.
It is with a very heavy heart that I post this obituary. I realize for some this will be news.
Marvin Sweet, Ceramics Professor in Fine Arts, died suddenly from an aneurism this summer. As many of you know, he had been battling heart trouble and, most recently, cancer. He had been recovering quite miraculously from both of these ailments, and it was therefore a great shock to learn that we'd lost him in the end.
Prof. Sweet was known for his acerbic humor, his passion for teaching, implacable standards - both for himself and for his students, his artistic talent, and, not least, his kindness and empathy for others. We owe a great debt to him here at the college for what he contributed to our ceramics program.
We are transformed in Comiskey by his absence. His presence and role in the department are irreplaceable.
Colleague, mentor and dear friend, Marvin, we will miss you much. Thank you for all you gave and for your time with us!
- Prof. Kimberly Kersey Asbury on behalf the Fine Arts Studio Faculty at Saint Anselm College
Celebration of Life Event for Prof. Marvin Sweet
"SWEET, Marvin A. 57, died unexpectedly, June 26, 2010 in Boston.
Receiving his Master of Fine Arts degree from Boston University, he was an award winning ceramist, author of numerous articles on artistic influences shared between Eastern and Western cultures, and his acclaimed book, The Yixing Effect: Echoes of the Chinese Scholar was presented by President Hu Hintao, People's Republic of China, as a cultural exchange gift to Yale University. Professor Sweet has taught ceramics at St. Anselm College in Manchester, NH, University of New Hampshire in Durham, NH, Art Institute of Boston and the former Bradford College.
His ceramic work has received many prizes and awards including the Artists Foundation Fellowship Award and the Massachusetts Cultural Council Professional Development Grant.
His creative spirit, love of learning and teaching, will be sorely missed by his loving wife of 27 years, Catherine Jason; his mother, Mildred Sweet; sister, Barbara Sweet; proud niece and nephew, Deborah and Daniel Ben-David; and his dear friends, colleagues and students. HIs father, Harold Sweet, predeceased him.
A "Celebration of Life" will be held Saturday, July 3, 2010 from 1 to 3 P.M.at Essex Art Center, 56 Island St., Lawrence, MA 01840 and donations in his memory may be made to Essex Art Center. Arrangements are by Paul C. Rogers & Sons Family Funeral Home, 36 W. Main St., MERRIMAC"
More about Marvin and his work:
mcgowanfineart.blogspot.com/2010/08/contemporary-lotus-lien-lynda.html
"All For One And One For All"
Smoke and Saggar fired porcelain and stoneware
13 ½ x 5 x 5
Saturday at 7:30 pm in the Comiskey Building of Saint Anselm College there will be a FREE performance of our three One Acts: A Charm of Powerful Trouble; Roadhouse in Arden and Bob's Date. Besides free the performance is also awesome...so you should go
A Night of One Acts Featuring:
A Charm of Powerful Trouble – Written and Directed by Kaitlin Burroughs with Assistant Director Katelyn Tustin
Starring:
Amanda O'Donnell – Amelia
Chad Boutin - Henry
Charles Hall - Brian
Katie Ferrara – Maya
Katelyn Tustin – Francesca
The Roadhouse in Arden – Directed by Shannon O'Hearn
Starring:
Rob Lemire – Robin
Laura Foley - Immortality
Brian Kelly – Hamlet
Regina Federico – Cleopatra
Aimee Baker – Francis B
Katie McNamera – William S
Bob's Date – Directed by Jill Buratto with Assistant Director Rob Lemire
Starring:
Amanda O'Donnell – Nerves
Katie O'Donnell – Logic
Rob Lemire – Libido
Brian Kelly – Bull
Christina Salerno – Confidance
Melissa Tivnan – Emotion
Katelyn Tustin – Memory
Producer – Katie O'Donnell
Stage Manger – Nicole Love
Props – Amanda O'Donnell
http://betruecompany.org/site/
http://www.facebook.com/pages/Be-True-Theatre-Company/235729568810
Saint Anselm is Doing a Sketchbook
**The deadline has passed for the Saint Anselm discount, but feel free to order direct from the link above and join us.
Saint Anselm is participating in the Sketchbook Project from Arthouse as a college community, spear-headed by Fine Arts & Lucubrations.
We received a discount as a group to both purchase & digitize the sketchbooks.
We'll hold our own mini-exhibition at the end of the fall semester to share what our sketchbook/journal entries have produced.
You fill up your sketchbook by January 15 and we ship them off to join a whirlwind tour of 6 exhibitions. One of the 1st stops is Portland, Maine and then NYC, then off to western states.
When the sketchbooks come back, they become part of a permanent collection housed at the Brooklyn Art Museum in NY.
Writing, Prose, Collage, Painting, Stitching, Drawing, Doodling, Photography are all valid approaches to tackling these themed sketchbooks which, for many Fine Arts courses this fall, will augment the usual sketchbook/journal requirements and provide students with ready subject matter with which to experiment and respond.
We'll post ongoing lists of tips and mini-assignments for filling up your sketchbook on Lucubrations and host a couple of Sketchbook parties in Comiskey with art supplies and fun and easy techniques. Questions? email: Prof. Asbury - kasbury@anselm.edu


Great Books Society: Wordsworth and Coleridge Poetry Reading
The Rime of the Ancient Mariner, Goody Blake, The Thorn, and more.
Bring your favorite Wordsworth or Colereidge poem to read
Food (Baked Albatross?) and Refreshments (Water water everywhere) provided
Bradley House Lounge